FOUNDER:
Eddie Lindros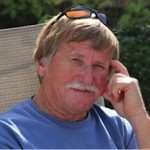 In 2001, I retired from teaching and handed over the backpacking program to Scott Rinehart. I enjoy helping Scott whenever needed. In looking back, I know that backpacking was a very significant part of my life and I enjoy hearing from past Poway Backpackers, that they too are introducing their friends and families to that joy.


PROGRAM DIRECTORS:
Scott Rinehart
1980 was a life changing summer for me. It was the summer where a teacher actually wanted to hang out with me (and other students) outside of school. It was the summer that blew my mind with the awe inspiring beauty of a mountain lake, stream, and mountain passes. It was the summer that opened my mind to what a body can endure and accomplish. It was the summer that introduced me to my true self. Four decades later the mountains of the Ansel Adams Wilderness and Yosemite National Park still draw me in like a high powered magnet. Now I'm the teacher spending my summer with students as they discover the beauty and power of their true self and that of nature. When not in the backcountry you can find me playing soccer, rock climbing and motocross riding with my family, or my nose in the latest elementary "must read" to keep up with my students!
Paige Rinehart
My first introduction to backpacking was in 2012 as I joined my new family on the adventure of a lifetime. The experience was overwhelming and one which words cannot explain. Although I had been exposed to many outdoor activities growing up, nothing could have prepared me for this new adventure. I found myself surrounded by the peace and calm of the outdoors whose beauty is almost impossible to explain. I knew I had found a new home. It was as if nature wrapped its arms around me and embraced me to never let go. I will be forever grateful to be surrounded by individuals who opened their arms and hearts to share their passion for the outdoors with me. Their love for everything they experience is contagious. My hope is that as a leader I will be able to give back to others what this group of leaders has given to me. There is nothing more rewarding than to watch the kids develop relationships, gain confidence, spread their wings, and fly. When I am not backpacking you can find me playing soccer, practicing Bikram Yoga, or trying to master dirt bike riding and rock climbing to keep up with my family.
THIS YEARS LEADERS:
Michael Shantz
I first went backpacking in the summer of 1985. It was an eye opening experience for me and it changed my life forever. Starting with that first trip, I was lucky to start understanding the true nature of a set of core values and deeply held beliefs that have served me the rest of my life. It was the summer I first began to learn about community and friendship. It was when I learned about determination and perseverance. When I learned about leadership and trust. Above all, I was given the opportunity to commune with nature and realize the power, hold, and majesty it can have on a person's life. That's what I know nature has done for me. Nature hasn't just changed my outlook on life, it has shaped my character. It has shaped my soul. There is something significant in what we do and why we do it. Walking among the trees, along a sheer cliff, and over the passes of the Sierras is special. Those who have done it know what I am speaking to. Outside of the Sierras you can find me teaching or find me acting. I work as a drama teaching artist connecting curriculum through drama and theatre arts. What I believe in is the idea that creativity can be taught. Creativity fuels intellectual curiosity, intellectual curiosity creates people who are problem solvers, and problem solvers become life-long learners. Ensuring the arts are at the core of education could be the key to unlocking the too often untapped potential of our students or our societal problems. Teaching through the arts can help us to be better students, teachers, applicants, team members, and employees. We can be better sons and daughters, brothers and sisters, mothers and fathers, and husbands and wives. And we also just might have better talent shows on our backpacking trips too!                                     
Corey Nance
Hello!  This will be my fifth summer backpacking with Poway Backpackers. I've done the Mammoth to Yosemite trek for the past four years and Scott has finally had enough of me.  He told me I need to spread my wings and fly, so I am moving up to be a director of the B1 trip. Growing up, I always had a love for the outdoors and climbing on things. As a child, I was constantly  yelled at to stop climbing trees. I was just always so hungry for the view at the top. Annual summer trips to Lake Tahoe were always the highlight of my year. I have had the opportunity to do a few road trips across America. I drove east from San Diego to Florida, as well as north from San Diego all the way up the pacific coast to Canada in Vancouver. I've also backpacked across 7 countries in Europe. Ready for some random stuff? One goal I've always had is to visit all the major league ballparks (11/30 down so far). Smokey the Bear has always been my favorite mascot. As a college student, Mac & Cheese was my favorite meal so looking forward to picking that habit back up on the trip. I have had a beard for about 3 years and everyone tells me that I can never shave it because I look like an infant.
Hannah Fuller
I was born and raised in San Diego and I am currently in college working towards my degree in Kinesiology. My love for hiking and being outdoors began at an early age when I first explored local preserves and canyons near my house. The act of simply walking over an uneven dirt (or even muddy) trail had always put me at ease. Although the tranquility that nature brought into my life was not unfamiliar to me, it wasn't until 2009 on my first Poway Backpacking trip that I discovered that this was a love that would remain with me forever. I met some of the most wonderful people and learned a lot about my own strengths with each trip. Sometimes the only thing keeping me going was imagining the campfire at the end of the day, or the feeling of finally unclipping my backpack while sitting back with quesadilla in my hands. Each trip always makes me appreciate the fact that I am lucky enough to be part of the small percentage of people to explore the mountains, all while surrounded by the most awesome group of people. It is an adventure of a lifetime and always leaves me feeling like my soul is home.
Ryan Helson
Don't let the beard fool you, Ryan is a child at heart. He loves to play, especially when it's outside! In 2017 Ryan spent 5 straight months hiking, running, rock climbing, and backpacking through dozens of national parks and monuments across Washington, Canada, Montana, Wyoming, Utah, Nevada, Arizona, and California. While he created some incredible memories during his travels, a major highlight of his 2017 was his first trip as a leader with Poway Backpackers. The sense of community, personal growth, respect for nature, and just pure joy shared by everyone on the trip inspires Ryan, and he cannot wait to be back on the trail!
Rusty Rinehart
I was literally born to be a backpacker. In the summer of 2001, my dad carried me on his back on my first backpacking trip. It was very life changing at four months old. Since then, I have been on over 30 trips with Poway Backpackers (I've learned how to walk since then ?). On weekends you can find me riding dirt bikes with Bobby Voorhees, rock climbing with Ryan Helson, or mountain biking with my friends and family.  A few years ago I was a 4.2 GPA high school senior, drummer, unicyclist, math tutor, and computer hacker. Now I am a 4.0 student in my third year at the University of Arizona pursuing a Bachelor's Degree in Electrical and Computer Engineering with minors in Mathematics and Computer Science. I am currently employed by Intel on a mission to engineer the fastest CPUs using as minimal power as possible to continue innovating the computers we use daily! Although fascinated with technology, I never turn down an opportunity to explore the outdoors. No matter how beat up from a day of hiking, I will gladly take you up to the top of a distant peak for a fresh Sierra snow cone or teach you how to boot ski down an inactive volcano. I am all about teaching my generation the value of face to face friendship and how the human mind is a much more powerful tool than many may realize. I can hardly wait for this year's trip!
Reace Rinehart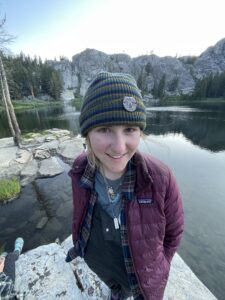 My first experience with backpacking was bumping around in my mom's belly as she trekked through the Sierras a few months before I was born. Growing up surrounded by this program and the beautiful people a part of it, I have acquired a unique perspective and expert experience, despite being one of our youngest leaders. My first trip as a leader was the summer of 2019 and watching the kids gain confidence in themselves, learn new skills, and explore was the most rewarding and inspiring thing I have ever done. As your leader I am excited to get to know you, play cards, sing, share infamous Poway Backpacker tales, and challenge you in the m&m relay (Be warned – I am the only one who has beaten the reigning champion Scott Rinehart!). When I'm not in the wilderness you can find me writing for the Poway High School Iliad (student newspaper), rock climbing, riding my dirt bike, or dancing around with friends. I feel so lucky and grateful to have grown up in this loving family and I am stoked for you to join us! 
Kellen McGrath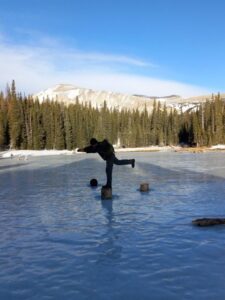 I went on my first trip in 2012, to say this program has changed how I live my life is an understatement. I currently reside in Boulder, and love extended hikes, climbing rocks, and anything else in the outdoors. These trips have been the highlights of my summers ever since I went for the first time. The values and appreciation for nature I have developed on these trips is something I will forever cherish, and hope to inspire in future participants.
Allison Bell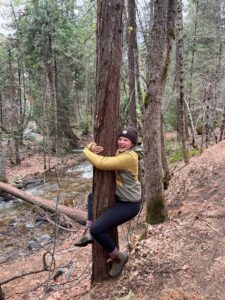 As a 13 year-old girl who had grown up experiencing the possibilities of the great outdoors, I thought I knew what I was in for on my first backpacking trip the summer of 2018. To my surprise, the Sierra Nevada Mountains showed me I was clueless- but gifted me a second home and a second family. While I'm not in the backcountry, you can find me making jewelry, camping with my family and friends, or dreaming of being in the forest again. I am attending Colorado State University to major in Environmental science. I plan to use my future to give back to the wilderness that has given so much to me. As your leader, I can't wait to chat on the trail, swim together in the lakes, and play cards at camp. Memories are ready to be made!
Abby Gant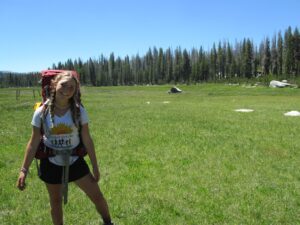 Ever since my first backpacking trip the summer after fifth grade, I discovered a new passion and love that would forever be in my heart. I grew up in Poway and had a love for the outdoors from an early age. However, the summer of 2015 was the first time I had hiked farther than 3 miles. To say this program has changed my life is an understatement. On these trips, I have met the most inspiring people and created lifelong friends. I have pushed myself out of my comfort zone and learned about my own strengths. I am so excited to continue to be a part of this program by leading, and I can't wait to help others foster their love for nature and push themselves to new limits.
Jessie Ackerman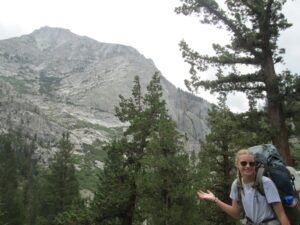 Hi friends! Backpacking has had a special place in my heart since my first trip in 5th grade. I have always loved being outdoors and Poway Backpackers taught me how truly special it can be. My love for these annual trips has continually grown over the years and have had a tremendously positive impact on my life. I have made lifelong friends and incredible memories from these unique trips. I have also gotten to further understand the importance of treating nature with respect and loving all aspects of the outdoors. My past leaders helped cultivate the love I have for backpacking and I am extremely excited to play a part in making your backpacking trip as special as mine have been! We will make our own memories playing cards, exploring, and getting to know each other along the trail! Outside of backpacking I love to crochet, hang with family/friends, and play lacrosse. This fall I will be attending the University of Colorado, Colorado Springs where I will be playing division 2 lacrosse and majoring in Pre-Physical Therapy. I am extremely excited to adventure with you this summer!
Ryan Hicks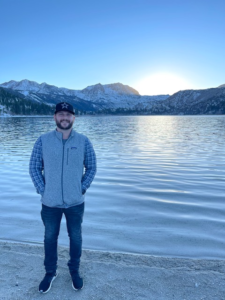 After graduating high school and enjoying the newly added freedom, I discovered my love for the mountains through snowboarding trips with my friends. I was 20 years old when I saw the Sierra for the first time. Having the opportunity to backpack and see them beyond Highway 395 is a dream come true. 
Just finished up my second year as a counselor for Chaparral Elementary and my 12th year working for Poway Unified School District. I've worked as a coach, ESS supervisor, and, more recently, a school counselor.  Working with students is my passion, and having the opportunity to expand that into the summer is something I'm really excited about. 
What do I bring to the table you ask? I always have a deck of cards with me, the voice of an angel, constant positive attitude, and last but not least, energy. 
Dallas Cowboys Football is life and during the football season you can find me comfortably sitting somewhere watching nervously as my team continues to underperform each year!
Cody Lasselyong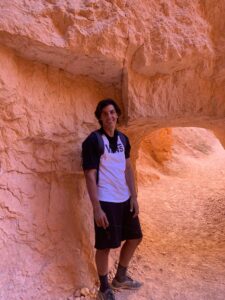 From as far back as I can remember a few weeks of each summer have been spent in the mountains. As a child my father and I would go into the Santa Rosa Mountain Range and just spend a couple weeks living off the grid. When I was young it was simply how I spent my summer and a fun activity with my dad. However, as I've gotten older and become accustomed to the hustle and bustle of adulthood, I've realized how much having that time away from everything truly means to me. I value the time to slow down and connect with nature and myself. I've always loved the opportunity to share this experience with others and create memories to last a lifetime. I look forward to making those type of memories with you.
LEADER LIMBO:
Robert Voorhees
Before Dos Equis introduced the world to its most interesting man, there was Robert Voorhees. A Taurus who enjoys any activity that requires a helmet, he has led many lives. In his youth he was a professional motocross and supercross racer, tai kwon do instructor, and goldsmith. In his early thirties he found his true calling and for the past 25 years he has inspired and entertained the young minds of his students as both an elementary and middle school teacher. His colleague at Chaparral Elementary School in Poway, Scott Rinehart, introduced him to backpacking in 2002 and he was hooked by the beautiful scenery, welcoming nature of the hiking leaders, and the opportunity to introduce young minds to a new world. Robert, known as Bobby by his friends and family, has led numerous trips through the Sierras since becoming a part of the Poway Backpackers family and enjoys most the opportunity to lead the A trip and be part of many young hikers introduction of backpacking. His recent hobbies include the search for intelligent life on other planets, the construction of a device to keep socks from losing their mates in your dresser drawer, and planking in exotic destinations around the world.
Adriana Zavala
Growing up I spent a lot of time hiking and camping with my family, fostering a love for nature from an early age. My first backpacking trip was in 2009 and I've been hooked ever since. My time in the mountains with Poway Backpackers is always the best part of my summer and I am so excited to continue being part of the program as a leader. I was born and raised in San Diego, but currently I am studying nursing at the University of South Carolina. My hope is to one day combine my profession with my love for traveling and the outdoors.
Audrey Howell
Born and raised in Poway, California. I have been a Poway Backpacker since 2004. Falling in love with backpacking at an early age has helped shape me as an individual. Over the years of backpacking with Poway Backpackers, I have developed an enthusiasm for adventure that follows me everywhere I go. There is nothing I love more than being in my purest form out in the Sierras with some of the most genuine people I've ever met. Every trip I have taken as a Poway Backpacker has been incredible and quite memorable, though my absolute two favorite trips are the Mt. Whitney and B1 trips. They are mentally and physically challenging, two benefits that I feel have helped my overall development and well-being. Let me tell you, there is nothing better that great friends, a campfire, and quesadilla parties in a place where no worries are to be had. I am a certified scuba diver, river rat, and lover of all things backpacking. I am excited to take my backpacking trips and love for nature to many other incredible, life-changing destinations, as well as having the opportunity to lead others who desire to explore the great outdoors!
Carolyn Richter
In the summer of 2003, 10-year-old me put on a backpack and there was no turning back. Growing up, I loved gardening and hiking, but my first summer with Poway Backpackers put me on course towards shaping a life that revolves around caring for the environment. After graduating from UC Berkeley with a double major in Professional Forestry as well as Conservation and Resource Studies with an emphasis on sustainable urban development and design, I pursued a career in environmental consulting. In my free time you will find me mountain biking, hiking, gardening, camping, cooking, kayaking, rock climbing, and adventure racing. As many others in this family will say, going to the mountains is going home.
Ian Rinehart
I started backpacking in 2005 and on these trips is where most of my favorite memories come from.  I love anything outdoors, and I am a big offroad enthusiast, from trucks to motorcycles, I love it all. I hope one day to work in the offroad industry as a welder and metal fabricator.
Lucas Newby
Hello friends and family all alike. I'm Lucas Newby and I have been backpacking since 2003, and it has shaped the man that I am today. It taught me discipline, compassion for your fellow man, and strength physically and even more mentally. Backpacking has also given me a love for the wilderness that is hard to explain in so few words. The Inyo National Forest, where we get to call home for 10 days out of the year has become what seems like my true home through my years of exploration. From the epic view of Banner and Ritter at Thousand Island Lakes, to the jumping rock in the unspeakably beautiful Echo Valley, these forests are where we are meant to be. Adventure is out there, all it takes is taking the first step out the door and putting one foot in front of the other. You never quite know what wonders you may find.
Mackenzie Welsh
My name is Mackenzie Welsh. Although I am currently the youngest in age of all my fellow leaders, I'm proud to say that my soul is much older. This fact about me goes hand-in-hand with the reason I love backpacking. When I return to the wilderness and absorb all the nature around me, I am in touch with my true happiness. Being able to share such good feelings with those surrounding me is what makes for the best memories. What I love about these trips is that the only thing you need to be able to have fun is each other. I have been backpacking for what will soon be 8 years. In this time I have explored a large majority of the beautiful Mammoth lakes and also the most gorgeous parts of Yosemite. I am always excited each year to embark on new adventures with my Poway Backpackers family. When I am not roaming the John Muir Wilderness, I am most likely hiking, working out at the gym, eating Greek food, doing more homework than I need to, listening to mainstream music, or wearing an excessive amount of patriotic clothing. I believe that backpacking brings each of us a special feeling, and it can only be felt through true experience.
Mackenzie Norman
I started out with Poway Backpackers in 8th grade. First as a participant, and now as a leader, being a part of PBP has not only given me a continual appreciation and love of the outdoors, but has taught me indelible life lessons about humility and hard work. Beyond the aesthetic beauty, I love backpacking because it allows me to remove myself from reality and to think, to truly ponder the corners of my mind; Ralph Waldo Emerson said it best: "Whilst the abstract question occupies your intellect, nature brings it in the concrete to be solved by your hands." Beyond the trail, here's more about me: my favorite foods are salmon, Greek yogurt, mixed nuts and veggies. I'm an avid runner, I love to laugh, I possess an incurable wanderlust, and honestly I'm a workaholic. I Graduated from Johns Hopkins University in 2015 with a B.S. in Neuroscience and my future plan is to be a surgeon. I've traveled to over 19 countries, and I'm published as first author in the American Journal of Food and Nutrition.
Kayla Piorkowski
Hey all! I'm Kayla! I'm a San Diego native, and newly welcomed to the Poway Backpackers crew. I work as a Speech Language Pathologist in the Poway School District, and when I'm not writing IEPs, programming communication devices, correcting lisps, and having my world brightened in the most delightful ways by my silly, compassionate, and hard-working students – you'll usually find me reading a book or in the great outdoors (or both at once)! I grew up hiking, camping, fishing, running, and playing all sorts of sports. Nowadays, bike rides at the beach, spikeball, rock climbing, wake boarding, a bit of surfing, and general gym-foolery are what occupy my time. I'm usually undertaking these activities in the company of my beautiful friends and family, as the good things in life are truly meant to be shared =) I'm incredibly excited to be a part of this crew, not only for the beauty of the nature experience itself, but also for the gift that the unique  presence of every student and team leader will be on these trips!
Giovanna Zavala
I grew up camping with my family but I didn't go backpacking until the summer of 2013 – it has been the highlight of every year since. Poway Backpackers has fostered my love for nature, sparked my interest in conservation and environmentalism, and maintained my physical and spiritual health. I am currently attending Chapman University for a double major in Screenwriting and English Literature and I try not to fret about unemployment, knowing that living in the mountains wouldn't be a bad life at all.
Travis Voorhees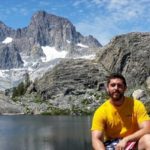 I am currently a Ph.D. student at Georgia Tech studying Materials Science and Engineering with an emphasis on shockwave physics; so I slam large chunks of metal into things at a couple thousand miles per hour.  I received my Bachelor's Degree in Chemical Engineering at Cal Poly Pomona in Spring 2015.  While at Cal Poly Pomona, I worked as a laboratory research assistant, interned as a crystal growth engineer at II-VI inc., and was the captain of the Track and Field team.  I really like to work with my hands, so my favorite hobbies (outside of backpacking) are metalworking, woodworking, and eating.  Speaking of eating, my favorite food is ribeye steak, cooked rare.  My first trip with the Poway Backpackers was back in 2003, when I was 10 years old.  I loved it right away and began leading in 2008.  I primarily work with first-year backpackers and my trips most commonly take place around the Mammoth Lakes.  I almost always have a bear on my trips, so please pack your bags accordingly.  If you bring a ribeye steak, you will for sure be doing bear-watch.
Billy Blair
I started backpacking with Poway in 2004 and went on one trip in 2003. I've been leading trips since 2011. I'm currently a field engineer working for Emerson's Electrical Reliability Services. I love to work on cars/trucks and race BMX in my spare time, and I currently own 5 cars. I am working on three of them to either flip or keep while I drive the other two. I have lived in Colorado since 2007, but I am always happy to fly out to Poway for the trips. I love leading these trips so that I can both enjoy the wilderness for myself and so that I can help to teach the love that I have for it to the younger generations.
Wendy Dorr
New to the Poway backpackers' family, I feel lucky to have joined such a wonderful group of leaders and kids.  I grew up in an extremely active and biologist-filled family that loves to explore the outdoors with boating, scuba diving, camping, hiking, and more. I continue to enjoy these activities and became a self-taught backpacker having adventured in California and abroad with friends. I fell in love with backpacking because it gives me the ability to traverse new landscapes and enjoy views, all while getting a great workout and without having to turn back at the end of the day. I am currently in my last year of pursuing my Doctoral of Physical Therapy at SDSU, after my undergraduate time at Cal Poly. Overall, I am stoked to be a leader because these trips combine my passion for kids with my passion for the outdoors. If your kids go on a trip with me, I always bring my energy, goofiness, passion, and nerdy facts.
Chloe Moore
Hi y'all! I am a wildlife biologist from Atlanta, Georgia and I'm extremely excited for the upcoming trip. I enjoy the outdoors so much, I've made a career working outside. I am a graduate student at Virginia Tech researching genetic variations in endangered species due to habitat loss. During my career as a biologist, I've been lucky enough to do everything from snorkeling streams in the Appalachian mountains looking for eastern hellbender salamanders to assisting with surgery on an injured red wolf. I've always felt the most at home in nature and I hope I can help all those who journey with me feel at home too.
Luke Garver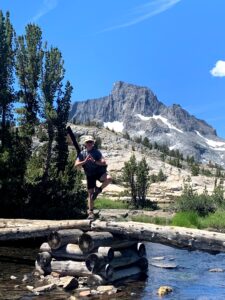 I went on my first trip, as a 6th grader, in 2015 and I did not know at the time that I would be going backpacking for the rest of my life. It's an amazing way to appreciate our world, become a stronger person, and make lifelong connections with people you barely know. I can't emphasize enough how positively Poway Backpackers has influenced me. The trips are physically and mentally challenging, but when you finally take your first shower after ten days, you'll only remember the good parts; every moment when you fell over laughing or looked in awe at the sun setting between snow capped mountains. Outside of backpacking, I call San Antonio home but lived in San Diego for 3 years, which is how I became connected to Poway Backpackers. I am currently a freshman at the United States Military Academy and am double majoring in Strategic Studies-and-Defense and Persian. I am stoked to see y'all on the trail!