Click here for printable PDF of gear checklist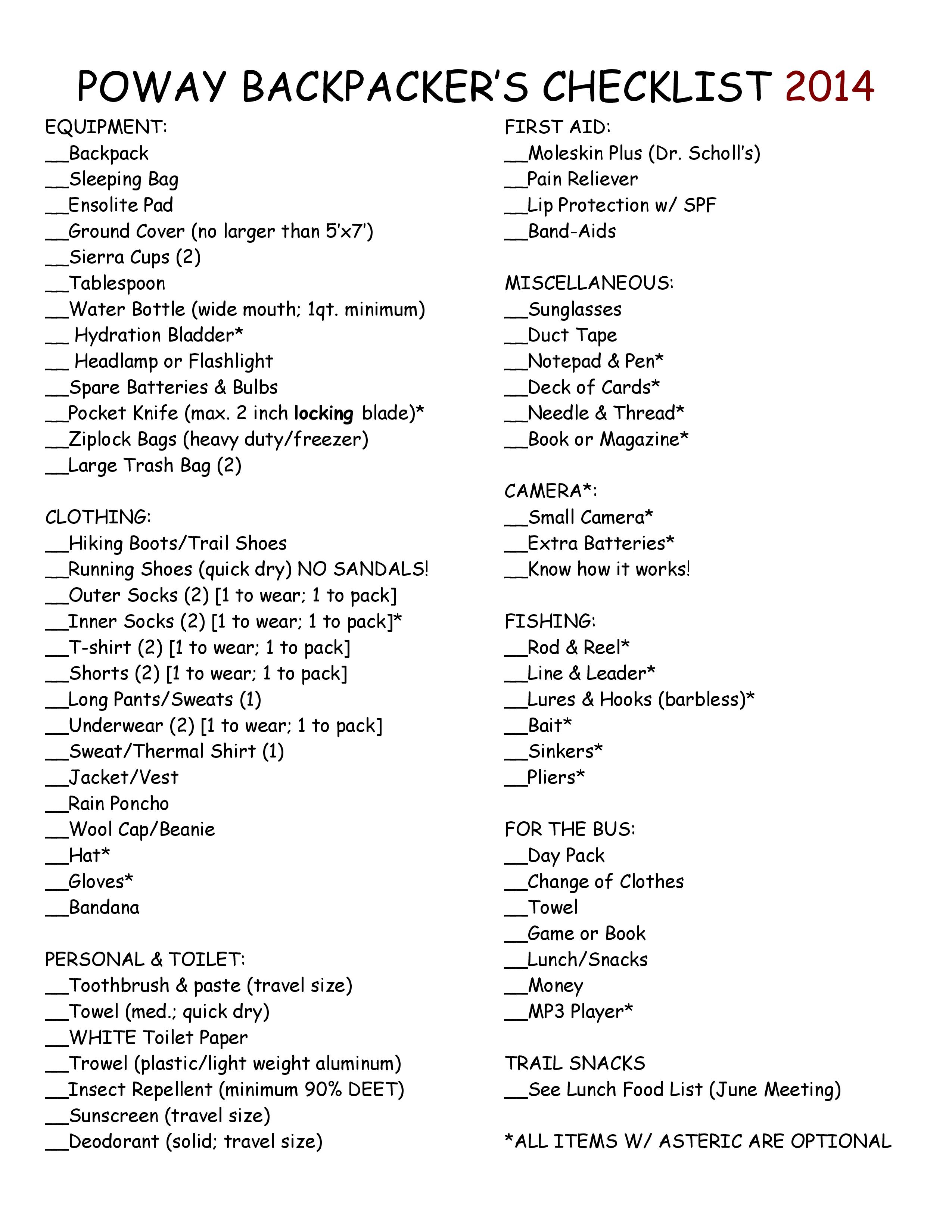 Click here for printable PDF of suggested lunch menu
POWAY BACKPACKER'S CHECKLIST
EQUIPMENT:
__Backpack
__Sleeping Bag
__Ensolite Pad
__Ground Cover (no larger than 5'x7')
­­__Sierra Cups (2)
__Tablespoon
__Water Bottle (wide mouth; 1qt. minimum)
__ Hydration Bladder*
__ Headlamp or Flashlight
__Spare Batteries & Bulbs
__Pocket Knife (max. 2 inch locking blade)*
__Ziplock Bags (heavy duty/freezer)
__Large Trash Bag (2)
CLOTHING:
__Hiking Boots/Trail Shoes
__Running Shoes (quick dry) NO SANDALS!
__Outer Socks (2) [1 to wear; 1 to pack]
__Inner Socks (2) [1 to wear; 1 to pack]*
__T-shirt (2) [1 to wear; 1 to pack]
__Shorts (2) [1 to wear; 1 to pack]
__Long Pants/Sweats (1)
__Underwear (2) [1 to wear; 1 to pack]
__Sweat/Thermal Shirt (1)
__Jacket/Vest
__Rain Poncho
__Wool Cap/Beanie
__Hat*
__Gloves*
__Bandana
PERSONAL & TOILET:
__Toothbrush & paste (travel size)
__Towel (med.; quick dry)
__WHITE Toilet Paper
__Trowel (plastic/light weight aluminum)
__Insect Repellent (minimum 90% DEET; 2 fl. oz.)
__Sunscreen (travel size)
__Deodorant (solid; travel size)
FIRST AID:
__Moleskin Plus (Dr. Scholl's)
__Pain Reliever
__Lip Protection w/ SPF
__Band-Aids
MISCELLANEOUS:
__Sunglasses
__Duct Tape
__Notepad & Pen*
__Deck of Cards*
__Needle & Thread*
__Book or Magazine*
CAMERA*:
__Small Camera*
__Extra Batteries*
__Know how it works!
FISHING:
__Rod & Reel*
__Line & Leader*
__Lures & Hooks (barbless)*
__Bait*
__Sinkers*
__Pliers*
FOR THE BUS:
__Day Pack
__Change of Clothes
__Towel
__Game or Book
__Lunch/Snacks
__Money
__MP3 Player*
TRAIL SNACKS
__See Lunch Food List (June Meeting)
*ALL ITEMS W/ ASTERIC ARE OPTIONAL
LUNCH FOOD
(Eat before you shop!)
Recommended Food
Tortillas
Bread (w/ bread box)
Pringles (cans are great for storing other foods, too)
Granola Bars or Cereal Bars
Energy Bars or Energy Bloks
Cheese slices (individually wrapped)
Block of cheese
Velveeta cheese
Crackers (see Pringles can)
Dried Fruits
Fruit rolls or fruit chews
Jerky
Nuts
Tuna pouches
Drink mixes
Spreads
Peanut butter (squeeze tubes)
Jelly/jam (squeeze tubes)
Mayo & mustard packets
Taco sauce packets (Taco Bell or Del Taco)
Candy & Junk Food
Oreos (see Pringles can)
Gummy stuff
Candy bars
M & Ms
Jolly Ranchers or other hard candy
GORP (you can make your own)
Chocolate covered raisins or nuts
Pop Tarts
Heavy Stuff
Oranges or other fresh fruit
Fruit cups
Pudding cups
Hostess cakes
Hot Dogs or Hard salami
* Approx. 1/2 lb. a day is more than enough. You can make daily lunch bags in small ziplocks to conserve weight & space. Remember, shop on full stomach!